3M Obsidian Series Automotive Window Films – Performance, Value, Longevity

At Pro Tint Orlando, we wanted to offer a premium line of automotive window film tinting options at budget prices. We found the solution in 3M's Obsidian Series Automotive Window Films. This line offers superior quality and performance to any of the cheaper brands out there by far, yet the line is less expensive than other lines we carry. This product will keep you and your passengers cool, offer a safe option and will not cause signal interference with electronic devices. Most importantly, this product comes with a lifetime nationwide warranty – for labor and materials.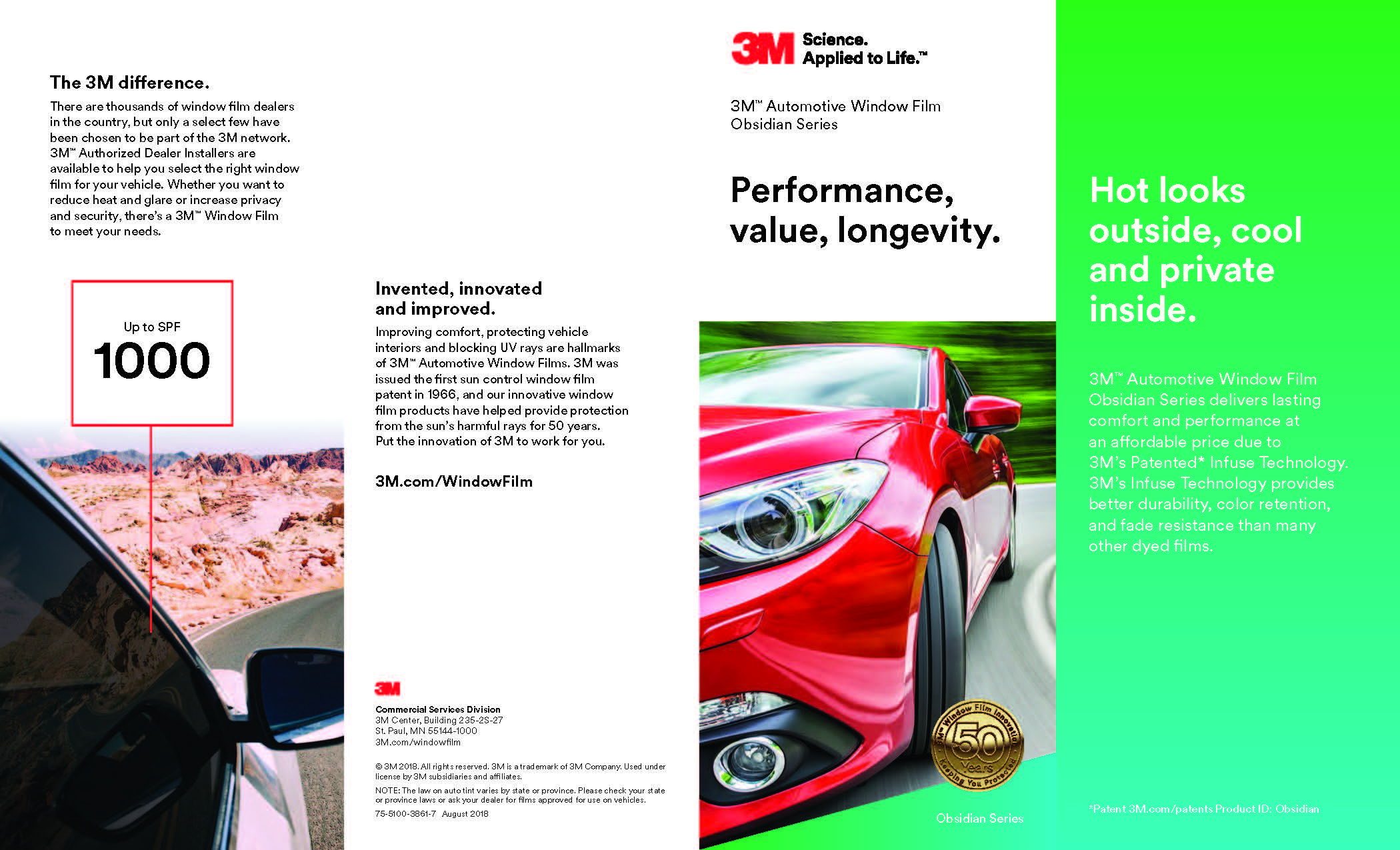 3M Obsidian Series Automotive Window Films delivers good looks and great performance, keeping you and your passengers cool and comfortable. As 3M's newest Automotive Window Tinting Film addition, it offers an economical alternative without sacrificing quality. Because Obsidian Series Window Films are non-metallized, you will enjoy no signal interference on your cell phone, satellite radio or GPS system.
Details
Hot looks outside, cool and private inside. The Obsidian Series delivers strong performance at an affordable price.
Contains 3M patented infused technology which helps prevent purpling and improved durability.
Rejects up to 44% of the total solar energy coming through your windows to keep you cool and protect you from harmful UV rays.
Blocks up to 99% of ultraviolet (UV) light to provide a Total Sun Protection Factor (SPF) of up to 1000 for you and your passengers.
Non-metallized window film lets you stay connected with mobile devices, GPS or satellite radio reception without interference.
Reduces up to 91% of the glare from blinding sunlight, allowing you to see better and concentrate more on driving.
Sold and installed by 3M™ Authorized Dealer Installers, our films are durable, virtually maintenance-free and backed by a limited lifetime warranty.
Performance, value, longevity.

At Pro Tint Orlando, we have researched many different brands of automotive window tint and have found 3M Products to be so superior that we carry them exclusively. The 3M Obsidian Series line of Automotive Window Films are for customers that are on a limited budget, but seek a superior window film that outperforms competitors' products.
Terms to Know
Total Solar Energy Rejected (TSER): The percentage of total solar energy rejected by filmed glass. The higher this value, the less solar heat is transmitted.
Visible Light Transmitted: The percentage of visible light that passes directly through filmed glass: the higher the number, the lighter the film.
UV Rejection: The percentage of harmful ultraviolet light that is rejected by filmed glass. Ultraviolet light contributes to sunburn and other harmful skin conditions and to the fading and deterioration of fabrics and leather.
Glare Reduction: The percentage by which visible light is reduced by the addition of film.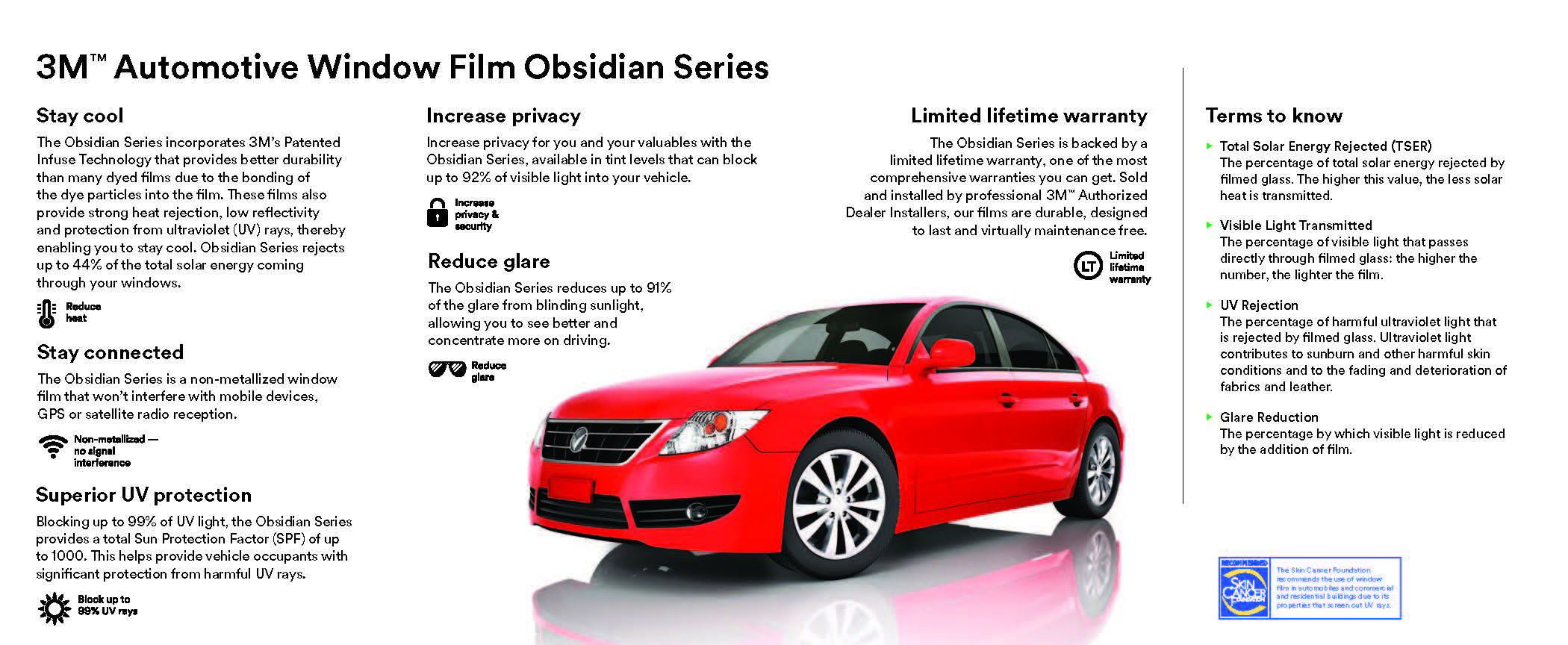 With Pro Tint Orlando Professional Installation, you are left with the decision of how dark you want your tint to look from the outside, mostly as an appearance function with the Obsidian Series line from 3M. Even with the darkest tint from the outside of the vehicle, from the inside your vision is clearer by day or by night than with typical old fashioned cheap dyed tint.
At Pro Tint Orlando, your professional installation is quick and efficient, it is perfect or it is fixed quickly and with a smile. Additionally, it is guaranteed not to crack, peel or bubble, ever. Films from 3M Products are guaranteed by the manufacturer, ensuring that fading or "Purpling" never happens. This guarantee is honored by Pro Tint Orlando,and anywhere 3M products are sold and installed in the US and Canada.
Finally, Pro Tint Orlando is a large and respected business in Orlando, Florida that concentrates on Automotive Window Tinting and making cars look great! We do one thing and we do it well – window tinting, detailing and making cars look great, and we do a lot of cars every day! On average, 11,000 cars come through our shop every year. We tint all the best cars in Orlando, but don't let that fool you, we want your business, and we will fight to make you our next loyal customer. Whatever the car, it deserves to look its best! We have been in the business of Automotive Window Tinting for over 25 years.