3M Scotchshield Safety & Security Window Film for Commercial Applications
Micro-layered and tear-resistant, Pro Tint Orlando recommends 3M Scotchshield to help increase safety & security against smash and grab burglaries.
Details
Mitigates hazards from shattered glass during natural disasters.
Helps protect people from flying glass shards, one of the most common causes of blast-related injuries and fatalities.
Micro-layered and tear-resistant to help increase security and provide added protection against smash and grab burglaries.
Combine with 3M™ Impact Protection Attachment Systems for additional safety and security.
Significantly blocks the amount of harmful UV rays that cause fading, helping to extend the life of furnishings.
Includes a comprehensive warranty from 3M.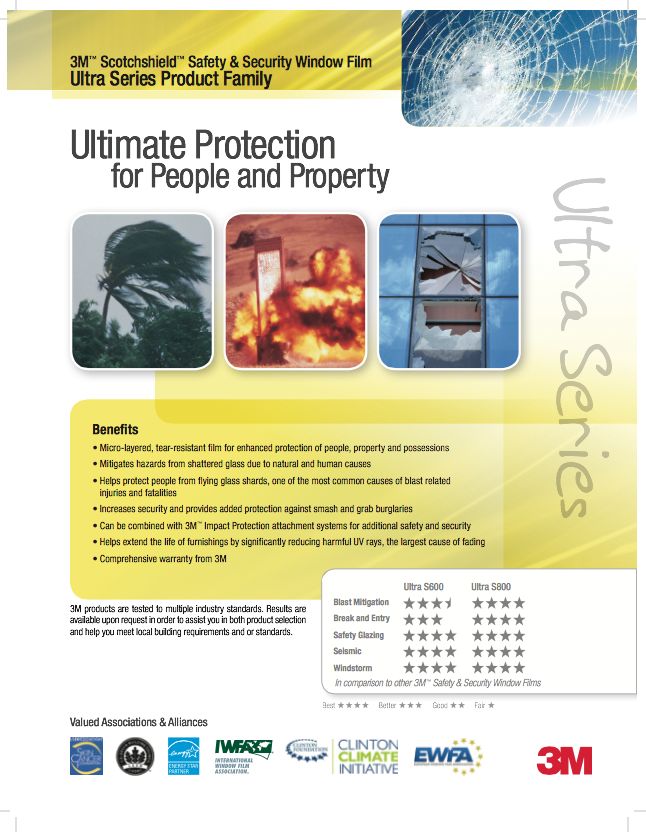 Get ultimate tear-resistant protection with enhanced 3M Impact Protection Scotchshield. Combine the safety & security benefits of 3M™ Scotchshield™ Safety & Security Window Film with the sun control benefits of 3M™ Sun Control Night Vision™ Series for even better effect. 3M Scotchshield micro-layered film is designed for tear-resistance and enhanced protection of people, property and possessions.
Break and Entry:  3M Scotchshield Window Film provides precious time by helping to deter unwanted individuals from entering your building protecting occupants and assets.
Safety Glazing and Human Impact: Upgrade your glass to meet safety glazing codes and help protect occupants from broken glass hazards even further, remember 3M Scotchshield is a window film that is installed over the glass window.

COMMERCIAL WARRANTY: What good is a multi-year year warranty from a company that wasn't around 12 years ago and might not be around 12 years from now? Selecting 3M Window Films gives you piece of mind. That's because we have one of the most comprehensive warranties in the business; backed by an American company you know and trust. All 3M Scotchshield films carry a 12 year warranty when professionally installed on a commercial building.

3M Scotchshield Safety Film are often applied to windows on storefronts or glass doors of offices or stores help to make sure the glass doesn't hurt anyone if it is broken or shattered. The 3M Scotchshield Safety Film helps keep the pieces of glass together to ensure it doesn't cause any cuts in the event an accident happens.  However, the film does not replace the glass it covers and a good safety glass in venerable places is always recommended such as glass doors and display windows.  3M Scotchshield Safety Film makes those windows almost impossible to break through, adding safety & security.
This high quality type of 3M Commercial Window Film is also recommended to deter crime, making the window much harder to break into. 3M has several options for home and commercial use, Pro Tint Orlando will be happy to demonstrate the advantages of this, or any solution that may be right from you. We always recommend the world's #1 innovator in Window Film, 3M.  3M is the number one selling window tinting film in the nation for a reason, available in many shades and variations.  And remember Pro Tint Orlando was named Window Film Dealer of the Year 2016 in the United States by 3M Corporation, so you know you are in the right hands!
Call us today at 407-841-2123 for a free appointment and evaluation to discuss your commercial window tinting needs.