Commercial Solar Window Film from 3M Reduces Florida Energy Costs – Guaranteed
Why Use 3M Commercial Solar Window Films from Pro Tint to Cut Florida Energy Costs
Today's high rise condos and commercial office buildings, storefronts and stores of all kinds need 3M Solar Window Films from Pro Tint Orlando. Buildings today feature more glass than ever in the past and need to cut Florida's high energy costs and lower the extreme summer temperatures. The problem facing residents of those buildings is that while they are beautiful to look at and create stunning architectural designs, all that glass comes with a cost. Windows are notorious energy wasters due to the thermal rays of the sun and the damaging effects of the UV rays on furnishings within the buildings.
While most new buildings feature Low-E windows that are designed to help increase efficiency, they offer little or no solar protection. This means the business or office space will still suffer from the harmful effects of the sun such as fading, skin damage, heat build-up, and annoying glare. 3M Solar Film Products and Pro Tint of Florida offers commercial window film designed to eliminate hot spots, cut glare, reduce fading and save energy!

3M Commercial Window Film Cuts Energy Costs – Guaranteed
With 3M solar window film we keep in mind that heat and energy efficiency is a top priority for many of today's business owners and building managers. 3M Commercial window film offers business owners and building managers a simple way to cut overhead costs, many of which are overlooked. For example, cafes and restaurants that boast an ocean view or sun-drenched and relaxed atmosphere will find that 3M window film allows for optimal window seating without the heat or glare issues customers would otherwise avoid.
The same goes for any waiting room or gym; no one picks the seating area or treadmill near the window because the sun is in their eyes and the added heat makes working out and even waiting around unbearable! With 3M solar window film commercial product, there's no need to install solar shades or blinds to appease patrons anymore! Window film technology allows for heat and glare rejection of up to 99%, there is even a 3M specialty film that is almost totally clear with a near 90% heat rejection if total clarity is your goal.  This saves business owners significantly on utility bills, allowing more room in the budget for other things as well as making more usable space within the business or living area.
In an office setting, privacy window film is great for meeting rooms and decorative film can impress clients by adding a custom, upscale look to any building. Most importantly, business owners can feel secure knowing properly and professionally installed 3M security film is there to protect their inventory against smash and grab break-ins.
3M Provides Uniform Window Film and Window Tint Appearance
With a variety of tints, transparencies, efficiencies and styles available, interior decorators, property managers and business owners can quickly and effectively create a uniform exterior appearance that can complement any building's design. 3M Products last a lifetime and continue to produce savings in energy for many years.  From mirrored, reflective window films that give a high-tech look to more subtle bronze or neutral films, Pro Tint will have the window film that can give your office or building that "custom" look and bring even the oldest building a fresh new look. If you are looking to update an older building by giving it a more contemporary, symmetrical look, Pro Tint and 3M solar window film and Pro Tint Orlando has a solution right for any situation.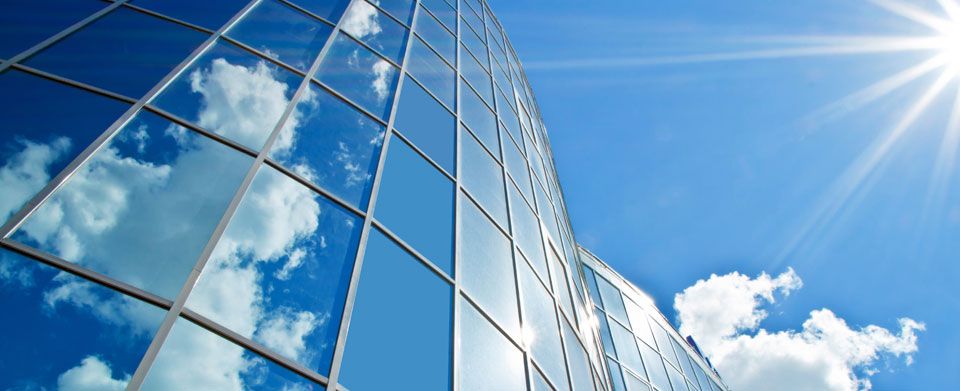 Why 3M Window Films Applied by Pro Tint of Florida save Money
Some 3M  solar window film is a retrofit application designed to be applied to the interior of the window and only have significant view blockage from the exterior. Once applied, the film is virtually undetectable and comes in many eye-pleasing colors and levels of privacy from the outside. 3M window film products and with Pro Tint of Florida installing them, have a unique ability to invisibly control fading, glare and heat build-up in any office, store or residence.  Once applied, the benefits begin immediately.
All available films offer 99% UV protection, helping to slow the harmful fading effects of the sun. 3M solar window films also reduce the "white light" known as glare to a comfortable level, helping to significantly reduce employee eye strain, a common problem when working on a computer or generating paperwork. Due to the 3M solar window film and it's ability to reject up to 90% of incoming solar energy, which naturally helps with cooling cost.  There is a third and unexpected benefit that it helps correct temperature imbalances within the office which exist between sunny and shaded areas, a problem that usually takes HVAC specialists years and thousands of dollars to finally balance.
Safety Films:
Safety films are often applied to windows on storefronts or glass doors of offices or stores to make sure the glass doesn't hurt anyone if it is broken or shattered. The tint helps keep the pieces of glass together to ensure it doesn't cause any cuts in the event an accident happens.
This high quality type of 3M window tint film is also recommended to detour crime, making the window much harder to break into. 3M has several options for home and commercial use, Pro Tint Orlando will be happy to demonstrate the advantages of this, or number one selling window tinting film, available in many shades and variations.